Open Hours
Parcel Pick-Up (PSC)
Mon, Tues, Thurs, Fri:
1000-1700
Wednesday:
1200-1700
Saturday:
1000-1200
Finance Counter
Customer Service
Mon, Tues, Thurs, Fri:
1000-1700
Wednesday:
1200-1700
Official Mail
Registered Cage
Mon, Tues, Thurs, Fri:
1000-1500
Wednesday:
1200-1500
Address
Building 426, Jefferson Avenue
Ramstein Air Base, DE
Open Hours
Parcel Pick-Up (PSC)
Mon, Tues, Thurs, Fri:
1000-1700
Wednesday:
1200-1700
Saturday:
1000-1200
Finance Counter
Customer Service
Mon, Tues, Thurs, Fri:
1000-1700
Wednesday:
1200-1700
Official Mail
Registered Cage
Mon, Tues, Thurs, Fri:
1000-1500
Wednesday:
1200-1500
Address
Building 2110, Mitchell Avenue
Ramstein Air Base, DE
Open Hours
Parcel Pick-Up (PSC)
Finance Counter
Customer Service
Mon, Tues, Thurs, Fri:
1000-1700
Wednesday:
1200-1700
Official Mail
Registered Cage
Mon, Tues, Thurs, Fri:
1000-1500
Wednesday:
1200-1500
Address
Building 2763, 6th Avenue
Kapaun Air Station, DE
Our team is comprised of three Post Offices that service four zip codes at Ramstein Air Base and Kapaun Air Station.
Northside:
The Northside Post Office (Bldg. 426) has 24-hour access to check your mailboxes, 7 days a week. Our Customer Service Team (Bldg. 429) is able to in-process you and your families Monday thru Friday. Official Mail pickup is located at the rear of Bldg. 426 and available Monday thru Friday.
Southside:
The Southside post office is home to 4,500 local customers, and provides 24-hour access to receptacles, and works diligently to transit nearly 100K parcels per year in service of the world's greatest Airmen.
Kapaun:
Kapaun Post Office offers 24/7 access to all Post Office Boxes. Our staff takes pride in offering excellent service to meet your postal needs. From package pick up, to package drop off, to Official Mail services, we are here to serve our community.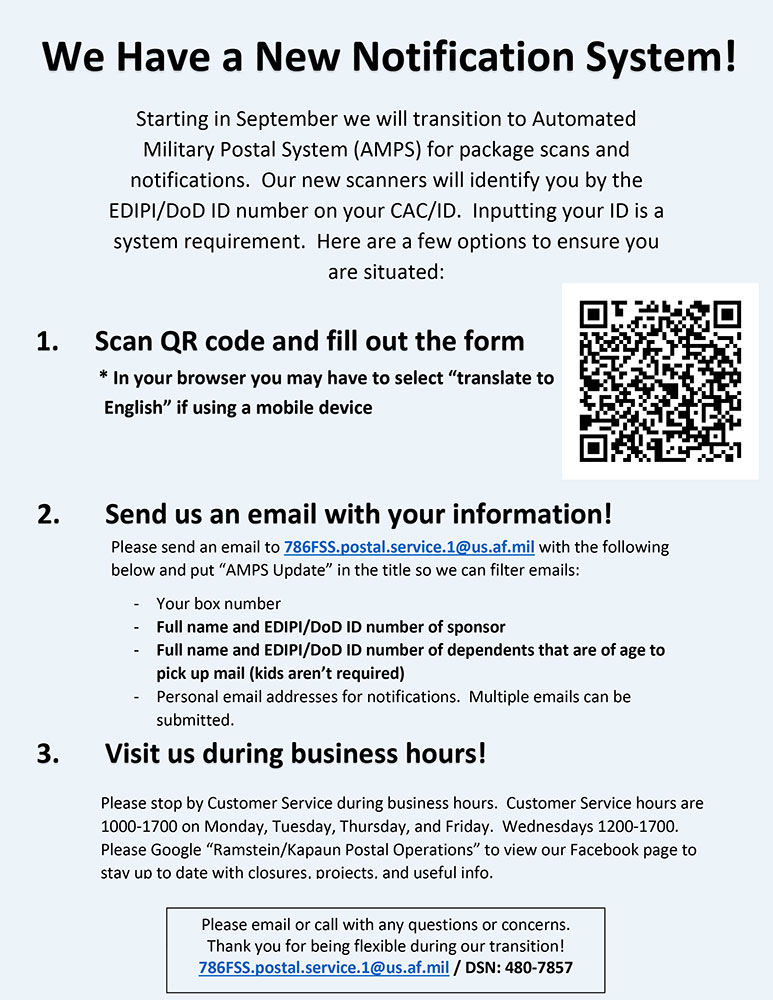 NSPO AMD Push
Starting September 2021, Northside Post Office at Ramstein AB will transition from our current package scanning and notification system to Automated Military Postal System (AMPS). With the new system postal patrons will be identified by using the EDIPI/ DoD ID number on their CAC/Dependent ID. Inputting the 10 digit EDIPI is a system requirement for not only the sponsor but all dependents of age to pick up packages. See attached file for your input options.
GTC Holds (Global Trade Compliance)
Overseas Post Offices are currently experiencing a 2 to 3 hour delay before
the USPIS receives the electronic customs data and clears the package for
mailing. However, this process could take up to 24 hours before the article
is cleared for dispatch. If the item still shows an HD hold after 24 hours,
MPSA will assume the responsibility of engaging with USPIS concerning these
items. We would like to inform customers to be very specific when completing
customs declarations forms.
General descriptions – e.g., "samples," "food products," or "toiletries" –
are not acceptable. 
Use "men's cotton shirts," not "clothing"

Use "lollipops" or "chocolate bars" not "candy"

Use "computer add-on board" or "graphics card" instead of "electronics"

Use "dog treats" or "fruit gummies" instead of "chews"