Razz Ma Tazz 23/24 Season Tickets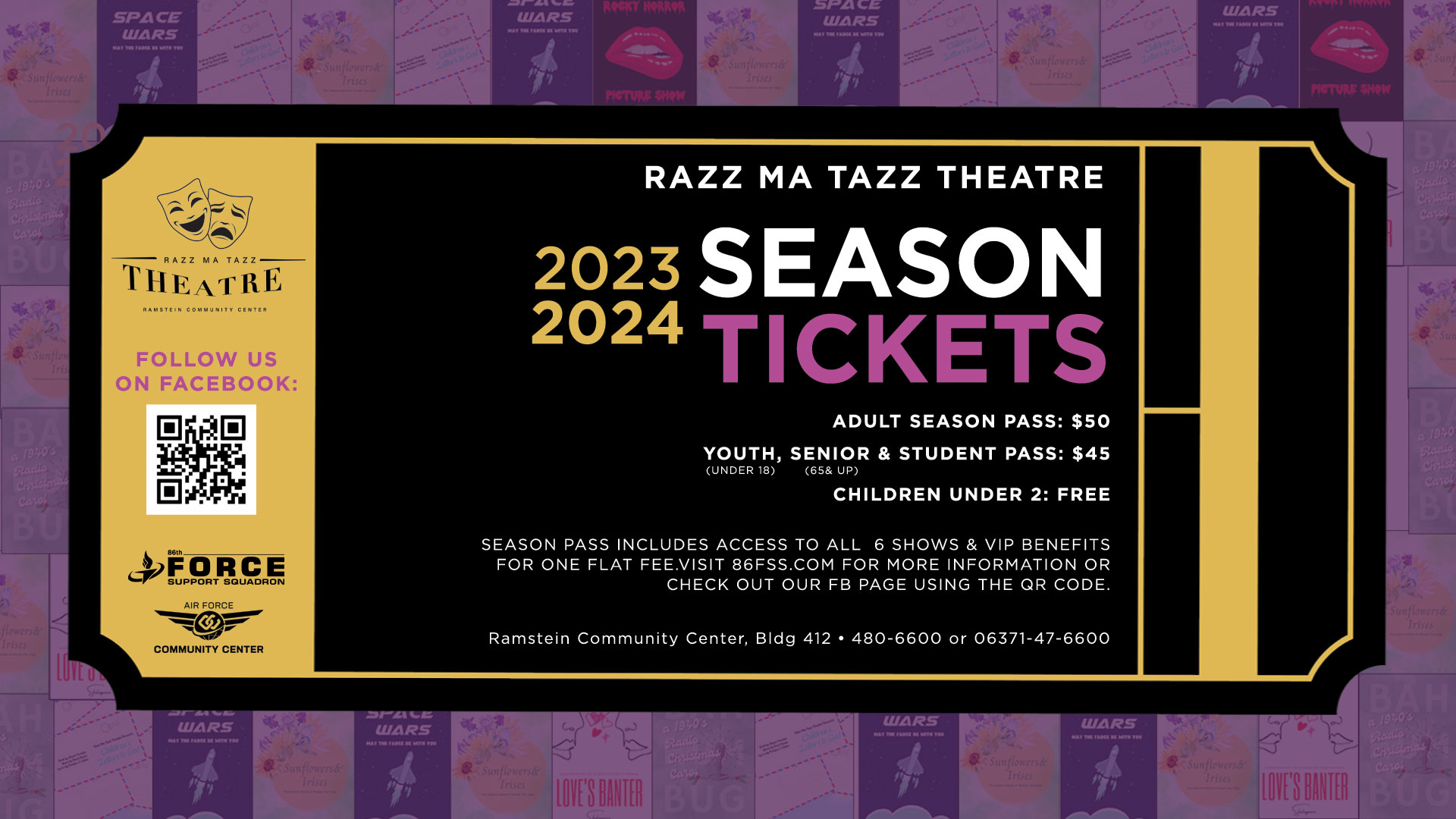 Welcome to Razz Ma Tazz Theatre! We're thrilled to offer you our Season Flex Pass for the 23/24 season, providing you with a range of benefits and exclusive experiences at a great value.
Here's what our Season Flex Pass entails:
1. Admission to Six Shows: You'll have the flexibility to attend any six shows of your choice from our exciting 23/24 season lineup and other events with equivalent individual ticket pricing hosted by Razz Ma Tazz Theatre. Mix and match as you please!
2. Opening Night Gala: Enjoy a VIP experience at our Opening Night Gala, where you'll have the opportunity to mingle with sponsors, volunteers, and fellow Flex Pass holders. This event will feature beverages and light appetizers, creating a wonderful atmosphere to kick off the new season.
3. Preferential Seating: You'll have the advantage of preferential seating for all the shows you select with your Flex Pass. We'll prioritize your seating requests and ensure that you have excellent views of the performances.
4. Discounts on Additional Tickets and Events: Flex Pass holders will receive exclusive discounts on additional tickets for shows and events hosted by Razz Ma Tazz Theatre. Whether it's our classes, performing arts youth enrollment, or special events, you'll enjoy discounted rates as a valued Flex Pass holder.
5. Flexibility to Pick Your Shows: Select 6 shows during our 23/24 season. We are adding additional shows, revues, cabarets that are not part of our announced 23/24 musical and plays (Children's Letters to God, Rocky Horror Picture Show, a 1940's Radio Christmas Show, Space Wars, Sunflowers and Irises and Love's Banter). Your Season Flex Pass gives you the flexibility to select alternative events such as our Broadway Jr. Revue, Stage Cabaret and more. The alternative events/shows must be equivalent in value to the individual ticket price either $10/adult or $8/youth, student, senior. For example, if you can't make it to Rocky Horror, you can choose to attend either Broadway Beats, dance only ticket or Broadway Jr. Revue instead.
Here's the updated pricing breakdown for the Flex Pass:
– Adult Flex Pass: $50
– Youth (under 18) and Senior (65+) Flex Pass: $45
– Student Flex Pass: $45
– Children under 2 are Free
For those who prefer single ticket purchases, here are the prices:
– Adult Tickets: $10
– Youth (under 18) and Senior (65+) Tickets: $8
– Student Tickets: $8
– Children under 2 are Free
"Please note that unclaimed seats will be released 10 minutes before the start of the performance. To ensure your preferred seating, we recommend arriving early and presenting your Flex Pass or purchased ticket at the entrance. We strive to accommodate all our valued patrons, and releasing unclaimed seats allows us to offer the best experience to everyone attending the show. Thank you for your understanding."
Thank you for considering our Flex Pass for the 23/24 season at Razz Ma Tazz Theatre. We value your support and look forward to providing you with an exceptional theater experience at an affordable price.