By Jana Marshall, RTTtravel Tour Director.
My husband and I think of ourselves as being pretty adventurous, no matter where we travel, we make a point of sampling the local brew.  Just like enjoying new foods, experiencing the beer, wine or spirits of a new place provides an opportunity to further explore the unique heritage and culture of a region. With this as one of our travel mandates we have evolved into passionate, ever thirsty, beer connoisseurs!  So when I told him RTT was considering doing an online beer tasting and we needed to be the guinea pigs and test the experience, he was "all in", especially after a drought of no travel or cultural experiences.
If you find yourself resonating with the above and beer is your "go to" beverage, living in Germany provides you with some exceptional advantages and opportunities to take your love of suds to a whole new level!  There are over 1400 independent breweries all crafting at least 3 different varieties of beer, if you do the math, that's 4000+ different beers waiting to be discovered. Last year, during our search for new adventures, we discovered Vulcan Brew, arguably one of the most unique breweries in the world. True to the name, the brewery is situated in the an area called Vulkaneifel (Volcanic Eifel), a terrain marked by large sleeping volcanos and natural spring waters.  We were thrilled to learn that they have found a way to bring the best of their brewery experience, the tasting of course, online!
Following the guidelines of the German purity law and being restricted to work with only four ingredients (water, malt, hops and yeast), brew masters must innovate to create a product that is distinct and delicious. Quality and sourcing of ingredients becomes paramount to the process from the water to the hops, as well as fermentation and experimenting with various types of yeast.  In Germany, brewing beer is a careful balance of tradition, quality ingredients, science and art. Vulcan Brew exemplifies this in every aspect of their craft, but most uniquely by using the natural resources the Vulkaneifel.   Mineral rich water that has risen through countless layers of prehistoric rock is the primary ingredient used and the finished product gets an extra dose of magic from the deepest beer storage and fermentation cellar in the world, a subterranean labyrinth that resides almost 100 feet underground.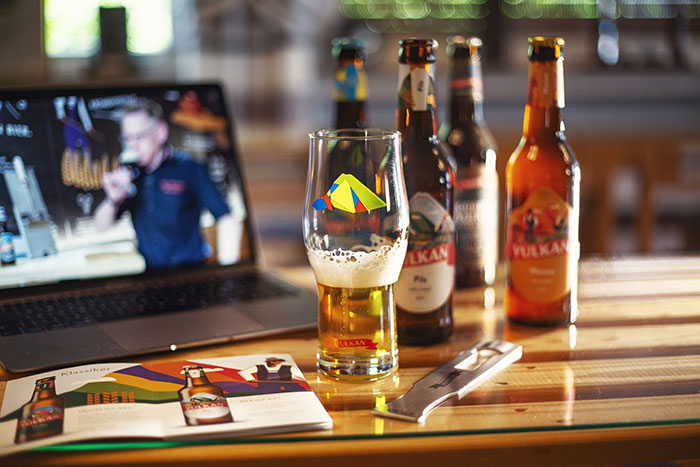 The beer tasting offered by Vulcan Brewery is surprisingly similar to wine tasting. Glasses are tilted, then swirled so the golden brew releases it's beautiful aromas of hops, then slowly sipped with an entirely new appreciation and perspective! Through this guided experience, we discovered subtle front notes of lively, fruity, tropical flavors followed by the smooth malty magic of an effervescent and rich ale. What surprised me was how diverse everyone's palate was and how interesting it was to share our experiences and impressions. I found that with each sip and each new beer my sense of taste became even more refined and I was able to detect a broader range of flavors.  My husband loved being able to chill in his sweats, comfy in his chair and just enjoy the beer and the tasting, and we both agreed that everything about the online tasting was fun, easy and hassle free.  So the guinea pigs gave it a green light!
The upcoming RTT online Beer Tasting with Vulcan Brew offers beer enthusiasts an evening of education and entertainment, combined with the opportunity to sample an assortment of brews through a guided tasting.  We invite you to join us and experience this award winning beer from the comfort of your own home on Saturday June 5th.  Beer packages will be available for pickup in front of the Community Center, Building Bldg. 412, Ramstein Air Base on Friday 4 June 1000 – 1300 hrs.  To purchase your online event package, please visit https://www.rtttravel.com/virtual-volcanic-beer-tasting or contact RTTtravel by phone at 06371-476650 or 06371-476330.